October 19, 2019
Simon Steinbeiß
As promised we'll try to stick to a tighter schedule this time, so without further ado: the development phase towards Xfce 4.16 has officially started!
This means that we have a list of features we will try to work on (that is not guaranteed though) and that is detailed on our roadmap page and its subpages. I'll try to summarize and highlight some (obviously with a focus on the stuff I know better because I'm more involved) of it for you here.
Dependency Update
Let's start with one very important and obvious change: we will drop Gtk2 support with Xfce 4.16. This will have a concrete effect on old Panel plugins or Gtk2 applications that rely on libxfce4ui.
Xfce 4.16 will introduce a new dependency on libgtop to display information about the system (in the "About" dialog). We hope this will also have a positive side-effect on e.g. Panel plugins to standardize on this library.
General UI
In the 4.14 cycle we tried to do a 1:1 port of what used to be our Gtk2 desktop environment, avoiding visual changes. In the 4.16 cycle we plan to harmonize the appearance of certain elements that either became inconsistent through the port or already were inconsistent before (e.g. toolbars or inline toolbars).
We will also play with client-side decorations where we feel it makes sense (for instance replacing the so-called XfceTitledDialog, that is used for all settings dialogs with a HeaderBar version). Before anyone gets too excited (both positively or negatively): It is not planned to redesign more complex applications (like Thunar) with Headerbars in 4.16. We will however try to keep the experience and looks consistent, which means gradually moving to client side decorations also with our applications (please note that client side decorations are not the same as HeaderBars!). Through this change e.g. "dark modes" in applications will look good (see the part about the Panel below).
Now before there is a shitstorm about this change I would kindly ask everyone to give us time to figure out what exactly we want to change in this cycle. Also, switching to client-side decorations alone is not a big visual departure – feel free to also dig through the client-side decorations page if you want to read/see more on this.
Thunar
As mentioned before: no big redesign. But lots and lots of smaller improvements and goodies are planned to up the user experience of the file manager you love!
This includes extending the API for plugins, installing some Thunar actions by default and storing view settings per directory.
Panel
Some of the building blocks of what shall be done for the panel is already underway, so I can show off some screenshots in this section (shameless self-advertisement).
As dark modes are all the rage everywhere and it really makes sense for the panel to have one, here it goes. Now you can easily get a dark panel – even with bright themes like Adwaita! With having client side decorations, the window borders of the preferences dialog will also look consistent with the rest of the dialog (remember that Xfwm4 doesn't – and won't – support the dark Gtk variant).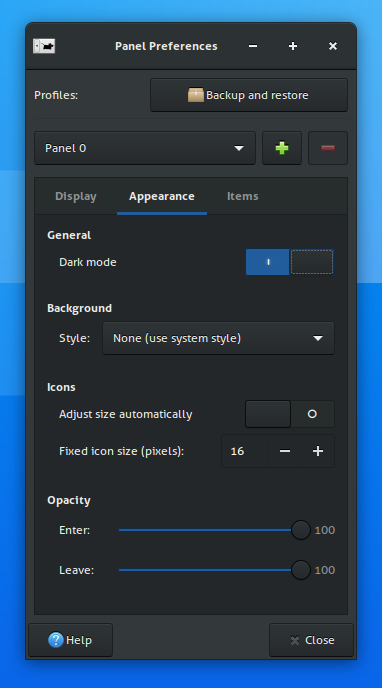 The panel's autohide modes received a "slide out" animation, so it's more intuitive to understand where the panel went. (We may tweak this feature further or even make it optional, but for the time being it's there by default.)
The launcher plugin will receive a feature from garcon, i.e. showing the Desktop Actions of a launcher item in its right-click menu (i.e. "Open Private Window" for Firefox). This is really just a feature preview though, the code is in working but very hacky/rough state.
Some other core plugins (workspace switcher, tasklist) will also receive tweaks and improvements.
Settings
Especially the display settings shall receive more attention, introducing support for scaled mirror mode (helpful if not all displays share a reasonable resolution) and more.
We may also include our own daemon to talk to colord directly to eradicate the need for xiccd.
Power Manager
"Night light" (as in: a timed function that applies a colorfilter to your display to reduce strain on the eyes) will likely be added to the power manager. (Although if we figure out it's easier to implement in the settings daemon it may be moved there.) Also some improvements to the panel plugin are planned as well as including a battery histogram in the settings dialog to visualize battery drain.
For all other components only smaller changes are planned.
Let's get on with it
As mentioned before this cycle is intended to be more lightweight to enable us to "stick to the plan" and get a release to our user base sooner than with the previous two releases. Also keep in mind that we want to renew some of our infrastructure, which will also take away some time.
So now let's get the 4.15 releases going!
September 13, 2019
Sean Davis
The best Linux graphical file search utility keeps getting better! The latest release features a new preferences dialog, a polished user interface, and significantly improved search results and performance.
What's New?
New Features
A brand new Preferences dialog. This dialog includes options for window layout, display options, custom exclude directories (new!), and an option to close Catfish after opening a file (new!).
Custom exclude directories. Previous releases of Catfish excluded various directories (/dev, ~/.cache, ~/.gvfs) to boost performance. This latest feature makes path exclusions customizable so users can further speed up their searches. (Xfce #15317)
Close after select. Frequent file searcher? This feature will let you find and open your missing file, and close Catfish right away, keeping your application list at bay. (Xfce #14888)
Bug Fixes
The previous release, Catfish 1.4.9 meant to include fixes for path exclusions. Somehow, I forgot to include the actual fix! So here it is, path exclusions are fixed and search performance should be increased as a result. (Debian #926850)
Icons are now always displayed at a consistent size in the results. Previously, some icons would be displayed much larger than others, breaking the visual flow.
Improved Application menu
In the past, clicking the application menu in Catfish meant seeing a cluttered, inconsistently spaced and aligned popover with poorly-worded options. No more!
Better use of space, padding, and margins
Clearer purpose labels
Keyboard accelerators are now displayed in the menu
Search Improvements
Symbolic links are now traversed, with actual paths only processed once
Added search priority, surfacing more relevant results faster. Folders are now descended with the following priority, then alphabetically:

XDG paths (Desktop, Documents, Pictures, Videos, etc)
Visible paths
Hidden paths
General
Better use of alt-accelerators
Improved installation instructions (Xfce #15105)
Reduced warnings displayed in the terminal
Simplified Python 2/3 compatibility code
Various code quality fixes (pylint, flake)
Translation Updates
Simplified welcome text. While not visually different, the 3 translatable phrases were merged into a single sentence to simplify translations. (Xfce #15596)
Albanian, Basque, Bulgarian, Catalan, Chinese (China), Chinese (Taiwan), Croatian, Danish, Dutch, French, Galician, German, Hungarian, Italian, Korean, Lithuanian, Norwegian Bokmål, Polish, Portuguese, Portuguese (Brazil), Russian, Serbian, Spanish, Turkish
Screenshots
Downloads
Source tarball (md5, sha1, sha256)
August 21, 2019
Simon Steinbeiß
So finally – here goes the official post for the Xfce 4.14 release…

Why is the release manager late to the party with his blog post? The explanation is simple: We prioritized sticking to the schedule and getting our releases out to everyone as planned, as our codebase was ready. What was not (entirely) ready was some parts of the website, which were brought up-to-date over the course of last week.
So I'm pleased to give you the official Xfce 4.14 tour, which nicely summarizes many of the nice user-facing changes that we pushed into the release (despite it being planned as feature-less, porting-only).
We're also working on other aspects of our website, like the screenshot reel on the frontpage, which is mostly up-to-date now, and the screenshots section. If you have more screenshots that you think we – and everyone else – should see, please get in touch via IRC (join #xfce on freenode) or the mailing list and if we like it too, we'll gladly add it!
What's next?
Well, obviously Xfce 4.16, for which the planning phase just started. We want to certainly stick closer to our release model (which prescribes a 6-month release cycle) this time and go for roughly a year to get to our next stable release. To some extent the schedule will depend on the outcome of the planning phase, but one thing I'm pretty sure I can announce straight away is that we're not going for the next technological jump (yet) – so don't expect Wayland or Gtk4 to play a major part in the coming cycle.
However, what we will need to do is some house-keeping and improving things for ourselves and potential contributors. We are strongly considering to follow freedesktop.org and Gnome in terms of switching to Gitlab (for Git and issues at first). They have done a tremendous job and as someone who recently contributed to one of the Gnome libraries I can say the bar is so much lower than what we currently have with Xfce (read: create bugzilla account, report bug, attach patch, wait patiently…).
In any case, enjoy Xfce 4.14 and join us to make 4.16 a great (and shorter) cycle!
The latest release of Catfish improves integration with OpenBSD, Wayland, Xfce, and numerous other desktop configurations. It also features a wealth of translation updates to improve Catfish's international support.
What's New?
Desktop Integration / Enhanced Thunar Support
A long-requested feature (requested 2+ years ago), it is now possible to navigate directly to a file in Thunar. Right-click on a file and select "Show in File Manager". Thunar will open immediately and then scroll to and select the requested file. Folder spelunkers, rejoice! (Xfce #14494)
Bug Fixes
Automatically adjust locate arguments to accommodate the host OS, improving support for OpenBSD
Fixed crash at startup on Wayland (Xfce #15297)
Fixed directory support when XDG_CURRENT_DESKTOP in unavailable (Xfce #15099)
Fixed search exclusion of non-standard paths (~/.cache, ~/.gvfs, /dev) (Xfce #15206)
Translation Updates
Added 'translator-credits' string to .po files (Xfce #15564)
Changed "…" to "…" for consistency with other Xfce apps (Xfce #15407)
Marked the "Search for files" string translatable (Xfce #15097)
Albanian, Arabic, Armenian (Armenia), Basque, Belarusian, Bulgarian, Catalan, Chinese (China), Chinese (Taiwan), Croatian, Czech, Danish, Dutch, English (Australia), Finnish, French, Galician, German, Greek, Hebrew, Hungarian, Icelandic, Indonesian, Interlingue, Italian, Japanese, Korean, Lithuanian, Malay, Norwegian Bokmål, Norwegian Nynorsk, Polish, Portuguese, Portuguese (Brazil), Russian, Serbian, Sinhala, Slovak, Spanish, Swedish, Thai, Turkish, Ukrainian
Downloads
Source tarball (md5, sha1, sha256)
As we prepare to release Xfce 4.14, each component is receiving another round of reviews and polish. Xfce Settings 4.13.8 includes a bevy of fixes and translations, and forms a solid foundation for the Xfce desktop.
What's New?
General
display: Disable auto-enabling profiles by default (4.13.7)
display: Sync display when applying config
display: Use current display
Bug Fixes
color: Fix crash when launching GNOME Color Manager in the Settings Manager window (4.13.7) (Xfce #15426)
color: Set the correct icon in color dialogs (4.13.7)
display: Add mnemonics to minimal dialog buttons (4.13.7) (Xfce #15449)
display: Replace deprecated icon (4.13.7) (Xfce #15416)
xfsettingsd: Fix numlock state restoration (4.13.7) (Xfce #15642)
xfsettingsd: Start settings prior to complete startup (Xfce #15725)
xsettings: Grab and sync XServer on startup (Xfce #15725)
Translation Updates
Armenian (Armenia), Belarusian, Danish, English (Australia), Finnish, Finnish, French, Indonesian, Lithuanian, Norwegian Bokmål, Portuguese (Brazilian), Serbian, Turkish, Ukrainian
Downloads
Source tarball (md5, sha1, sha256)
Xfce Settings 4.13.8 is included in Xubuntu 19.10 "Eoan Ermine", installed with the xfce4-settings package.
We've been hard at work optimizing Xfce's screensaver to give users the best possible lock and screensaver experience in Xfce. With 0.1.6 and 0.1.7, we've dropped even more legacy code, while implementing a long-requested feature, per-screensaver configuration!
What's New?
New Features
Added support for on-screen keyboards. This option adds a button to the login window to show and hide the keyboard at the bottom of the screen.
Added per-screensaver configuration. The available options are pulled from the xscreensaver theme file and are stored via Xfconf.
Improved background drawing when using 2x scaling.
Bug Fixes
Fixed flickering within the password dialog (0.1.6)
Fixed various display issues with the password dialog, all themes should now render xfce4-screensaver identically to lightdm-gtk-greeter (0.1.6)
Fixed confusion between screensaver and lock timeouts (Xfce #15726)
Removed reference to pkg-config (.pc) file (0.1.6) (Xfce #15597)
Code Cleanup
Cleaned up kdb-indicator logic (0.1.6)
Consolidated debug function calls (0.1.6)
Dropped libXxf86 dependency (MATE Screensaver #199)
Dropped lots of unused or unneeded code, significantly streamlining the codebase
Migrated xfce4-screensaver-command to GDBus
Moved job theme processing out of gs-manager (0.1.6)
Removed full-screen window shaking on failed login
Simplified handling of user preferences (0.1.6)
Simplified lock screen and screensaver activation code
Translation Updates
Armenian (Armenia), Belarusian, Bulgarian, Catalan, Chinese (China), Chinese (Taiwan), Czech, Danish, Dutch, Finnish, French, Galician, German, Hebrew, Hungarian, Italian, Lithuanian, Malay, Norwegian Bokmål, Polish, Portuguese, Portuguese (Brazil), Russian, Spanish, Turkish
Downloads
Source tarball (md5, sha1, sha256)
Xfce Screensaver is included in Xubuntu 19.10 "Eoan Ermine", installed with the xfce4-screensaver package.
July 31, 2019
Simon Steinbeiß

The final pre-release before Xfce 4.14 stable is out since two days ago so here goes a quick look at the most notable bugfixes. While this release was optional, we decided to give ourselves a little more time for bugfixes and translation updates to flow in, which results in sticking to the original plan of releasing 4.14 in mid-August.
That said, many components only received translation updates, which hopefully means there are no more bugs to fix in them
Some highlights
xfce4-session
We worked again towards the reducing of race conditions between xfsettingsd (which applies all kinds of X and Gtk related settings like font, theme, display layout)  and other Xfce components that rely on these settings (like xfwm4 or the xfce4-panel).
xfmw4
Various fixes related to compositing found their way into the release as well as improvements to looking for fallback window icons, especially helping with e.g. Electron-based applications.
Another fix in this release concerned the placement of new windows, which are now defaulting to the current display (i.e. the one with the mouse cursor).
Thunar
A fix for mounting external drives was part of this release (sometimes they were erroneously mounted with root privileges) as well as a bug that caused Thunar to use 100% CPU when the parent directory wasn't readable.
Finally some usability improvements were added (right-click drag and drop, additional zoom accelerators, keyboard shortcuts for switching tabs).
xfce4-panel
Various bugfixes, most of them affecting plugins (tasklist fixes for the new group indicator, directory-menu, clock). As with Xfwm4, we also improved the fallback lookup for window icons for the panel.
Considered disabling Gtk+2 support by default but then reverted because of problems with building docs. In general support for Gtk+2 plugins will remain as part of the final 4.14 release of the panel and will only be removed in the 4.16 cycle.
xfce4-power-manager
Support for xfce4-screensaver was added in this release. Furthermore the power manager now checks if the panel plugin is present and automatically hides the systray item in this case. This is especially interesting for distributions like Fedora that ship a vanilla Xfce and would end up with both the systray item (which is enabled by default in the power manager to always have a fallback for the user) and the panel plugin (which got added to the new default panel layout). Finally screen-dimming and the inactivity-action (e.g. suspend on inactivity) now get inhibited by video playback in players that support this (e.g. a YouTube video in Chromium). A patch for parole for this feature is already in review.
What's next?
Well we're currently ironing out the (hopefully) last quirks and bugs that we find – some of them may actually result in a bit of work for translators.
Furthermore we have finally branched off the 4.12 documentation on docs.xfce.org and started to update and extend it for 4.14. As an example, we have added a WIP page about the newly added color dialog of xfce4-settings.
Only two more weeks until the final release…
July 1, 2019
Simon Steinbeiß

As scheduled, the team has released the second pre-release for Xfce 4.14, which is due later this summer, yesterday evening. As this release was mostly focused on bugfixing there are not that many highlights, but as with Xfce 4.14pre1 I'll try to point out a few – as before, not completely unbiased.
Some highlights
xfce4-panel
Several bugs were fixed, most notably Bug #15044, which caused applications used with multi-touch devices to regress into single-touch.
A new visual indicator for grouped windows was introduced to the tasklist plugin and the default panel layout was refreshed, adding several plugins (if not installed/shipped, they will simply be automatically and silently removed from the panel on its first run).
Furthermore some usability tweaks were done (e.g. more mnemonics) and translations have been updated.

xfwm4
Several fixes and improvements to compositing (GLX backend), HiDPI and theming have made it into the latest release.
thunar
A bug where writable shares were wrongfully detected as read-only was fixed as well as some other, less critical bugs.
xfce4-settings
Several regressions and bugs were fixed in the color dialog, the display dialog (the display settings were not retained across sessions) and the settings manager.
xfdesktop
The new "Add Next Background" option was added as well as several fixes around interactivity (drag-and-drop, open items on keypress) and theming.
xfconf
The settings backend of Xfce gained support for GObject introspection and vala.
Testing
If you want to get a taste of Xfce 4.14 pre2 without compromising your main system you can grab the Docker container of xfce-test that we tagged today as ubuntu_19.04-xfce-4.14pre2 with all the components in their up-to-date versions from dockerhub. If you haven't used xfce-test before I heavily recommend reading its helpful Readme.
Furthermore, several distributions have already commenced on packaging (Xubuntu, Fedora, Manjaro, OpenBSD etc) so we hope to get even more testing and feedback until the final release of Xfce 4.14.
Next steps
The next release – aka pre3 – is optional, so we may decide to skip it and go straight for the final release if the release team is confident that there are no showstoppers.
Until then enjoy Xfce 4.14pre2!
With Xfce 4.14 rapidly approaching, development efforts have shifted to bug fixes. Exo 0.12.6 is no exception, with several old and new bugs finally meeting their end.
What's New?
Missed the release announcement for Exo 0.12.5? Click here to check it out!
Bug Fixes
Translation Updates
Albanian, Armenian (Armenia), Bulgarian, Chinese (China), Chinese (Taiwan), Croatian, Danish, French, Galician, German, Hungarian, Icelandic, Interlingue, Italian, Polish, Portuguese, Portuguese (Brazil), Russian, Spanish, Thai, Turkish
Downloads
Source tarball (md5, sha1, sha256)
A new version of the Xfce Screensaver is now available! The latest release fixes a number of bugs while also making the codebase leaner and more efficient. Check it out!
What's New?
New Features
General
Removed a lot of unused code (2,700+ lines)
Simplified monitor-handling logic
More consistent spacing in makefiles
Bug Fixes
Added categories to display in the Settings Manager (Xfce #15507)
Added a fallback idle timer for when X11 screensaver doesn't notify
Fixed warning during configure stage (Xfce #15552)
Fixed Inhibitor lock (Xfce #15551)
Hid screensaver themes from "Open with" options (Xfce #15531)
Made numerous cppcheck, cpplint, and Coverity Scan fixes

Constant variables guarding dead code
Dereferencing before/after null
Unchecked return values
Unused variables
Memory leaks
Translation Updates
Albanian, Basque, Belarusian, Bulgarian, Catalan, Chinese (China), Chinese (Taiwan), Czech, Danish, Dutch, English (Australia), French, German, Hebrew, Hungarian, Icelandic, Italian, Korean, Lithuanian, Malay, Polish, Portuguese (Brazil), Serbian, Slovak, Spanish, Swedish, Turkish
Downloads
Source tarball (md5, sha1, sha256)