January 12, 2013
Jérôme Guelfucci
A new awesome release of the Parole media player for Xfce is out and ships all the hard work of Sean Davis and Simon Steinbeiss.
Sean wrote an extensive description of this new release on his blog, with tons of screenshots. As stated there, do not hesitate to give them feedback on this new release and to file any issue you may have on the Xfce Bugzilla.
Here is a screenshot of the new very nice main view while playing an audio file: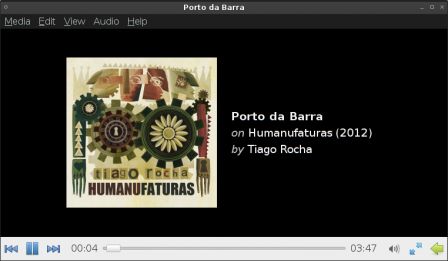 Congratulations to Sean and Simon for this excellent work!
January 5, 2013
Jérôme Guelfucci
A lot of users seem to be wondering how to edit keyboard shortcuts in xfce4-terminal 0.6.x. The built-in shortcut editor is indeed gone and the application now uses editable GTK+ accelerators like other GTK+ applications. This is more consistent and allows to drop the exo dependency which makes the application lighter.
The FAQ of the Xfce documentation has a guide on how to edit GTK+ accelerators of xfce4-terminal. You'll get your custom shortcuts back in no time!
PS: xfce4-terminal 0.6.1 is out and has a killer "drop-down" mode ala guake / tilda. See Nick's Google+ page for screenshots.