May 19, 2019
Simon Steinbeiß

Good news everyone, finally the
first pre-release
of the long-awaited
Xfce4.14
is here!
\o/
Some highlights
Note: A lot has happened since Xfce 4.12 was released four years ago and
this announcement only covers the changes that were included in the latest development releases
dubbed as
Xfce 4.14pre1
. Also, we have noticed some confusion by people or news outlets that seem to mistake
xfdesktop
for the "Xfce Desktop Environment"¹. The comprehensive changelog will be provided with the Xfce 4.14 final release, but here go some select highlights that were released in the last week (chosen subjectively by the author).
xfce4-session
Most notably the so-called FailSafeSession (which is the default session for every user that doesn't specifically save a session) has been fixed to use startup priority groups. Previously xfce4-session started all applications at once, leading to all kinds of race conditions (unthemed xfce4-panel, multiple instances of nm-applet etc.). Now xfce4-session launches only all applications per priority group at once, leading to a much more controlled session start. Several UI improvements have also landed as well as allowing users to trigger scripts on logout, restart, suspend etc. Finally it's worth mentioning that we decided to drop the splash screens.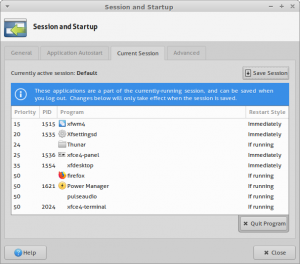 xfwm4
Lots of improvements to vertical blanking support have been added, including a switch to GLX as default method. Furthermore the support of Gtk+3's window scaling feature – aka
HiDPI support
– has received many fixes. Also, lots of other bugfixes (and a new default theme).
xfce4-settings
A new colord frontend has been added to xfce4-settings, meaning you can now manage the color profiles you created. Furthermore the display profile functionality has been improved and expanded, ensuring a more flicker- and frickle-free experience when changing display setups frequently.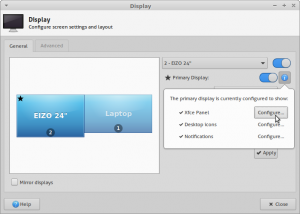 xfce4-panel
Most notably a bug with (semi-)transparent background images was fixed.
Other components
Many of the other components have seen mostly bugfix releases, but in any case, we have to keep some stuff for the final announcement of Xfce 4.14, right?
Each of the core components (aka everything listed in the
xfce
group
here
) has very recently had a release that has been tagged as
xfce-4.14pre1
(in addition to the normal release tag). As an example, for xfwm4 4.14pre1 corresponds to
xfwm4-4.13.2
. These additional tags shall help packagers who want to provide a testing environment with a quick and reliable way to get all core components in the correct versions. The
full version table is available here
(with hyperlinks to the respective git tags).
Where can you get it?
It's probably worth mentioning that several major Linux distributions (Fedora, Xubuntu etc) have already decided to ship Xfce 4.13 components, so you can expect to find a lot of Xfce 4.14pre1 in their next releases. (For Xubuntu specifically the packages will show up in the
experimental staging PPA
also for the current stable release 19.04.) We will soon also provide a
docker container
(aka
xfce-test
) thanks to Florian with Xfce 4.14pre1 inside for all of those of you who want to play around and test without compromising their main systems. So stay tuned for
ubuntu_19.04-xfce-4.14pre1
to show up on
dockerhub
…
Please take these latest releases for a spin and report bugs!
Also, submit patches if you can or support us morally
(Or through
bountysource
.)
Next steps
Our next very obvious step is Xfce 4.14pre2, which is scheduled for June 30, and after that the – optional, depending on overall stability – Xfce4.14pre3. Feel free to check out our
roadmap page
for more detailed infos! (Also, if you're wondering what the pre-releases mean feel free to take a peek into
our release model
.)
---
¹ The Xfce Desktop Environment is a collection of components of which xfdesktop is one. Xfdesktop is the 'desktop manager' and as such mostly responsible for setting a background image ("wallpaper") or color and drawing icons on the desktop.