June 14, 2009
Jérôme Guelfucci
I'm pleased to announce the 1.6.0 release of Xfce4 Screenshooter. This cycle was quite long because I had some exams and the number of implemented features is bigger than usual.
First, there is a brand new interface based on a review by Fabrice Viale : it is simpler and more polished. This new interface also allows you to choose whether the mouse cursor should be captured and whether the application should be closed after taking the screenshot. Here is a screenshot of the application: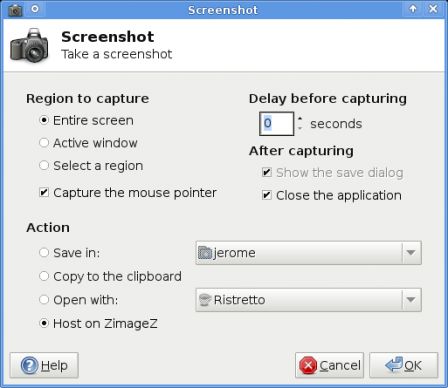 It is now possible to save screenshots on any remote share supported by GVFS: ftp, sftp, samba... You just need to connect to a share or a distant computer using Gigolo or gvfs-connect and it will be displayed in the sidebar of the save dialog.
This release also features the possibility to host screenshots online, on ZimageZ. You just need to set up an account on their website and you will then be able to upload your screenshots to ZimageZ directly from Xfce4 Screenshooter. This feature is still a bit experimental and will be improved in the next release: for example accents in the user name or password cause a fail during the upload...
There are also some other small changes which can be found in the changelog. I would like to thank Jannis Pohlmann (for his help concerning jobs and threads), Fabrice Viale (for his interface review), Mike Massonnet and Enrico Tröger (for their various patches) ,Yves-Alexis Perez and Ali Abdallah (for the testing and the suggestions). And last but not least, the translation team who did a great job by adding and updating a lot of translations of the application and of the documentation.