It's here, it's finally here! The first 1.0 release of Parole Media Player has finally arrived. This release greatly improves the user experience for users without hardware-accelerated video and includes several fixes.
What's New?
Parole 0.9.x Developments
If you've been following along with the stable release channel, you have a lot of updates to catch up on. Here's a quick recap. For everybody else, skip to the next header.
Parole 0.9.0 introduced a new mini mode, boosted X11 playback, and made the central logo clickable. When your playlist is complete, the "play" logo changes to a "replay" logo.
Parole 0.9.1 improved support for remote files and live stream playback. Older code was stripped away to make Parole even leaner and faster.
Parole 0.9.2 introduced a keyboard shortcuts helper (Help > Keyboard Shortcuts), fixed numerous bugs, and included a huge code cleanup and refactor.
Parole 1.0.0: New Feature, Automatic Video Playback Output
We've finally resolved the long-standing "Could not initialise Xv output" error (Xfce #11950) that has plagued a number of our users, both in virtual machines and on real hardware.
In the past, we were delighted when we were able to implement the Clutter backend to solve this issue, but that API proved to be unstable and difficult to maintain between releases.
Now, we are using the "autoimagesink" for our newly defaulted "Automatic" video output option. This sink provides the best available sink (according to GStreamer) for the available environment, and should produce great results no matter the setup.
Parole 1.0.0: Bug Fixes
Fixed 32-bit crashes when using the MPRIS2 plugin (LP: #1374887)
Fixed crash on "Clear History" button press (LP: #1214514)
Fixed appdata validation (Xfce #13632)
Fixed full debug builds and resolved implicit-fallthrough build warning
Replaced stock icon by freedesktop.org compliant option (Xfce #13738)
Parole 1.0.0: Translations
Albanian, Arabic, Asturian, Basque, Bulgarian, Catalan, Chinese (China), Chinese (Taiwan), Croatian, Czech, Danish, Dutch, English (Australia), Finnish, French, Galician, German, Greek, Hebrew, Hungarian, Icelandic, Indonesian, Italian, Japanese, Kazakh, Korean, Lithuanian, Malay, Norwegian Bokmål, Occitan (post 1500), Polish, Portuguese, Portuguese (Brazil), Russian, Serbian, Slovak, Spanish, Swedish, Thai, Turkish, Uighur, Ukrainian
Downloads
Parole Media Player 1.0.0 is included in Xubuntu 18.04. Check it out this week when you test out the Beta!
sudo apt update
sudo apt install parole
The latest version of Parole Media Player can always be downloaded from the Xfce archives. Grab version 1.0.0 from the below link.
https://archive.xfce.org/src/apps/parole/1.0/parole-1.0.0.tar.bz2
SHA-256: 6666b335aeb690fb527f77b62c322baf34834b593659fdcd21d21ed3f1e14010
SHA-1: ed56ab0ab34db6a5e0924a9da6bf2ee91233da8a
MD5: d00d3ca571900826bf5e1f6986e42992
With a huge code cleanup effort, complete plugin development documentation, and numerous bug fixes, Parole Media Player 0.9.2 paves the way for future development.  What's New? General Homepage updated to docs.xfce.org Xfce URLs were switched to HTTPS New Features A new keyboard shortcuts helper was added to the Help menu New and keybindings for previous …
Continue reading

Development Release: Parole 0.9.2
February 11, 2017
Sean Davis
Development for the Xfce media player is back on!  Well over a year since the last release, Parole 0.9.0 brings a fresh set of features and fixes.  What's New? New "mini mode", activated from the right-click menu. New play and replay icons in the player content area. Clicking on these will play or replay your …
Continue reading

Parole Media Player 0.9.0 Released
Here we are again, folks. After six more months of development (two years since the last LTS), we've got another fantastic release — Xubuntu 16.04 LTS "Xenial Xerus"!  I wanted to find a nice squirrel quote, but it seems most folks have a horrific dislike for the little critters. — Myself, after looking up squirrel …
Continue reading

Xubuntu 16.04 LTS "Xenial Xerus" Released
October 18, 2015
Sean Davis
A new release of Xubuntu is just around the corner!  The release candidate for Xubuntu 15.10 "Wily Werewolf" is now available, with the final release expected less than a week from now on October 22.  What's New? This list highlights several new features and applications, but is by no means exhaustive.  This post will be …
Continue reading

Xubuntu 15.10 Available
October 17, 2015
Sean Davis
It's been nearly 8 months since the first release in Parole's 0.8 stable series. Yesterday, Parole Media Player 0.8.1 was released in time to be included in Xubuntu 15.10.  This release includes several bug fixes and makes for another great release. What's New? New Feature-ish New hidden setting to persistently hide the menubar been sessions. This …
Continue reading

Parole Media Player 0.8.1 Released
January 12, 2013
Jérôme Guelfucci
A new awesome release of the Parole media player for Xfce is out and ships all the hard work of Sean Davis and Simon Steinbeiss.
Sean wrote an extensive description of this new release on his blog, with tons of screenshots. As stated there, do not hesitate to give them feedback on this new release and to file any issue you may have on the Xfce Bugzilla.
Here is a screenshot of the new very nice main view while playing an audio file: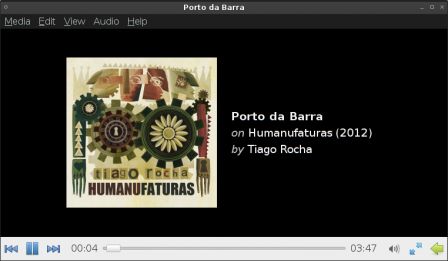 Congratulations to Sean and Simon for this excellent work!